Contact us
Add
: Benjia Ji, Northern Suburb of Hai'an County, Nantong City, Jiangsu Province, China
Contact Person
: Jack Lee
Tel
: +86-13914352549
Fax
: +86-513-88755315
E-mail
:
cementmachinerylee@gmail.com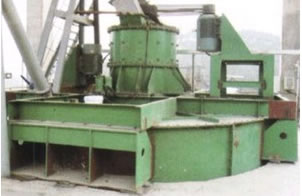 Scatter Grader
Technical Parameters of DSF600/140 Scatter Grader:
1. Name: DSF600/140 scatter grader
2. Application: Scattering and grading crushed materials
3. Amount: 1 set
4. Material: clinker
5. Total moisture content: ≤1~1.5%
6. Feeding size: Dmax≤30mm
7. Discharging size: more than 35% is no more than 0.08mm.
8. Production capacity: 480~540 t/h
9. Working mode: continuous
10. Power supply mode: voltage: 380V
11. Layout mode: indoor
12. Required power: 45+55kW
13. Scattering disc diameter: 1400mm
14. Rotating speed of main shaft: scattering disc: 450 rpm; wind wheel: 300~800 rpm
15. Weight: 30 t (excluding motor weight)
Here in Jiangsu Pengfei Group Co., Ltd, we can provide customers worldwide with rotary components, mainframe, shell, motor, starting cabinet, 30kW ABB frequency changer, wear-resisting lining plate, and sieve plate.
As a professional manufacturer and supplier of scatter grader in China, Jiangsu Pengfei Group Co., Ltd can also provide you with various other machines, such as powder separator, cement production line, cement grinding plant, industrial kiln and furnace, grinding equipment, crushing equipment, environmental protection equipment, cooling equipment, drying equipment, compound fertilizer equipment, packing machine, chemical equipment and electrical control system. Most of our products have passed the certification of ISO9000 and CE, and they have been quite popular among customers from as many as 60 countries and districts such as Germany, Russia, Brazil, Egypt, Japan, South Korea, Bengal, Pakistan, Turkey, Vietnam, South Africa, Columbia, Bolivia, etc. If you need scatter grader, please don't hesitate to contact us.
Related products