Contact us
Add
: Benjia Ji, Northern Suburb of Hai'an County, Nantong City, Jiangsu Province, China
Contact Person
: Jack Lee
Tel
: +86-13914352549
Fax
: +86-513-88755315
E-mail
:
cementmachinerylee@gmail.com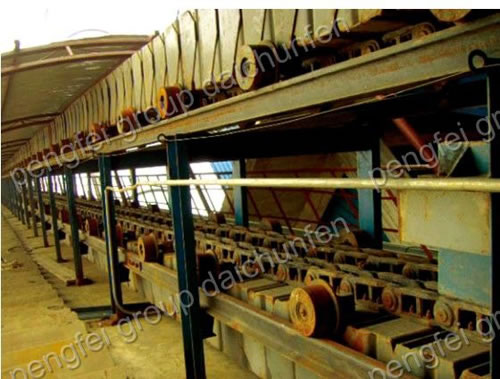 Chain Bucket Conveyor
Description of SOB Series Chain Bucket Conveyor:
Our SOB series chain bucker conveyor is mainly used to convey lump and granule materials that are sharp, abrasion resistant and heat resistant. It can bear high temperature as high as 250℃.
It mainly consist of driving device, upper track, lower track, upper guardrail, lower guardrail, holder, tail equipment and operating part.
During the cement production process, cooled clinker from rotary kiln will be sent to the clinker warehouses for storage so that production disequilibrium and influences caused by temperature, components, or other changes can be avoided. The cement clinker is highly corrosive and, even after cooled, its temperature maybe still keep high. So the transport of cement clinker has to employ chain bucket conveyor.
Inclination angle of this conveyor is usually less than 60°, and the more economic one is 45°.
As a professional manufacturer and supplier of chain bucker conveyor in China, Jiangsu Pengfei Group Co., Ltd can also provide you with various other machines, such as apron feeder, chain conveyor, cement production line, cement grinding plant, industrial kiln and furnace, grinding equipment, crushing equipment, environmental protection equipment, cooling equipment, drying equipment, compound fertilizer equipment, packing machine, chemical equipment and electrical control system. Most of our products have passed the certification of ISO9000 and CE, and they have been quite popular among customers from as many as 60 countries and districts such as Germany, Russia, Brazil, Egypt, Japan, South Korea, Bengal, Pakistan, Turkey, Vietnam, South Africa, Columbia, Bolivia, etc. If you need chain bucker conveyo, please don't hesitate to contact us.
Related products